* Lightweight-Only-13 lbs. per 3' x 3' Wood Grain panel.
* Only 9 lbs. per 3' x 3' Black & White
* Engineered for Indoor and Outdoor use- 100% Waterproof.
* Multi-patent design makes for easy & fast installation
* No tools
* Weather resistant - will not warp or stain.
* Ideal for tent and event application ( self draining design )
* Easy to clean, easy to maintain.
* 10- year manufacturer's warranty
* Made in USA
Start by laying your first panel on any corner. The loops should be pointed in the direction you want to add panels.
The panels have 2 sides with female loops, and 2 sides with male pegs.

Place the next so that the pegs line up over the loops.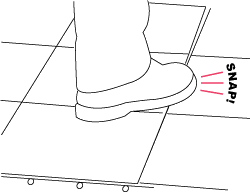 Gently step on each panel. You will hear and feel it snap in to place. Repeat these steps until your board is complete. That all there is to it !
All tiles on any given installation should ALWAYS HAVE THE FEMALE LOOPS GOING IN THE SAME DIRECTION. ( illustration 1 )
illustration 1 ( right )
CAUTION: If you inadvertently rotate a tile 90* it will snap into place ( illustration 2 ) but you will not be able to complete the installation properly

Illustration 2 ( Wrong )

Always begin the installation in one corner, pointing the female loops in the directions that additional tiles are to be added. See animation below left, left>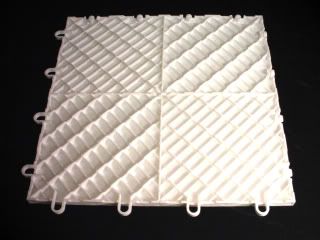 Back of 12" x 12"Board panel